Mountain climbing Kenya tours and kilimanjaro
+254 20 2020738 / +254 721500871
There are many reasons to choose Mountain climbing Kenya tours, Kilimanjaro and Kenya, Africa Climbing, high altitude destinations, and snow-capped mountains.
Both Mount Kenya and Mount Kilimanjaro are snow-capped mountains. Mount Kenya is the second highest, and it is harder to conquer the summit, but Mount Kilimanjaro is easily accessible. Mount Kenya is climbed within four days, while Mount Kilimanjaro is for five days.
Hiking in Africa, Mountain climbing Kenya tours, and Mount Kilimanjaro hiking is home to hikers where experts and climbers meet and are ready to help from the time of the first Mountain hiking tour inquiry to meeting you at Nairobi Airport.
The Kenya and Kilimanjaro trekking tour will be guided and advised before the start of the hiking adventure. It will be advantageous if you can acclimate to Mount Longonot in Kenya for a day, overnight in Nairobi, and go to Mount Kenya the next day. After hiking Mount Kenya, you can have a break and go on tours in Kenya for three or four days.
Proceed to Moshi at the foot of Mount Kilimanjaro and start hiking in Africa Kilimanjaro for five days. You will spend your first night in the Arusha hotel, waking up early the next day for your transfer to Moshi. After early morning breakfast, transfer to Marangu Gate, and after government formalities, start the five days tour of Kilimanjaro hiking in Africa before coming back to Kenya to proceed on Safari tours.
In the last 20 years of our Hiking in Kenya and Kilimanjaro experience, I have seen many people from all walks of life embracing the hiking adventure. Hiking can be challenging and exciting for your physical, mental, and spiritual fitness. In addition, hiking is the only place to appreciate the geographical landscape and nature. Hiking in Kenya is not exceptional, and you will satisfy your thirst for physical, mental, and spiritual fitness while on a Kenya mountain climbing tour adventure.
Mount Kenya has three high peaks, Batian at 5199m, Nelion at 5188m, and point Lenana at 4985m. In addition, there are other summits like Point Piggott, 4,957m. Point Dutton, 4,885m, and Point John, 4,883m. Of the three high peaks hiking in Kenya (Batian, Lenana, Nelion) points, only the point Lenana trekkers can approach with a walking stick. The other two, Batian and Nelion, are for technical climbers. Mount Kenya's usual climbing and more easily accessed are the Naro Moru route, Chogoria route, and Sirimon route.
One of the dangers in Mount Kenya is hypothermia. As you ascend Mount Kenya, energy is needed, and in the process, most moisture is lost. Moisture, whether from the body, or a damp climate, is your biggest enemy, and it is recommended to eat chocolates or other sugary things like sweets to add more energy and keep warm as you climb mountains.
Climbing Kilimanjaro from Kenya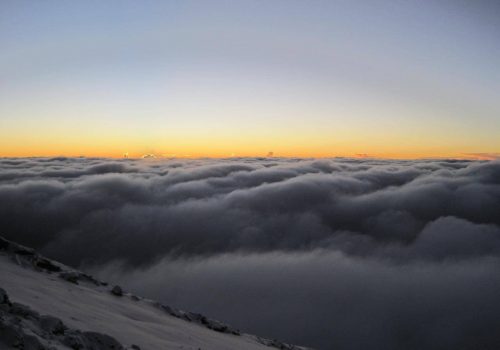 Climbing Kilimanjaro from Kenya is not allowed by the Tanzania government. To avoid conflicts, after landing in Kenya, at Nairobi Airport, drive 3 hours to Arusha town in Tanzania overnight in Arusha Hotel. If the trekkers have enough time, the climbing guide will suggest a one-day acclimatization tour at either Ngong Hills or Mount Longonot in Kenya.
The tour starts from Nairobi to Mount Kenya for four days of climbing, and after going for a three days safari tour is the choice. After overnighting in Nairobi, transfer to Moshi for an overnight stay. After breakfast, proceed to Mount Kilimanjaro Marangu Gate to begin the climbing tour.
Mount Kilimanjaro is a snow-capped mountain and is the heist mountain in Africa. The higher you trek colder it becomes, and the greatest enemy of the body is cold weather advisable to dress warmly.
Hiking the tallest free-standing mountain and the highest mountain in Africa, Kilimanjaro, is a rewarding experience; as you climb, you will walk through the forest, and buffalo and sometimes elephants can be viewed grazing. Most climbers can access Mount Kilimanjaro's top summit with no climbing techniques. However, there is much more to this mountain than just the summit, freshwater streams, rivers, and fauna. Most climbers reach the Top Point with a walking stick, the correct clothing, and determination. As the climbers move up and down, they encounter different animals. The mountain is exciting and thrilling but, at the same time, challenging, especially in the rainy season.
Kilimanjaro is among the world's most accessible high summits, a haven for every hiker. Most climbers reach Uhuru peak with a walking stick, proper clothing, and determination. And those who get to the summit will earn certificates and beautiful memories. And those who get to the peak will get certificates and beautiful memories.
But there is so much more to Mount Kilimanjaro than her summit. The ascent is a climate world tour from the tropics to the Arctic. Climb Kilimanjaro with mountain climbers experts and be guaranteed to conquer the summit. A safari combination with Kilimanjaro is a rewarding experience; the wildebeest migration in Serengeti and Kilimanjaro, Serengeti National Park and Kilimanjaro, camping tour and Kilimanjaro, Mount Kenya, and Kilimanjaro name it the adventure is endless. Our experience hiking Kilimanjaro for the last 20 years will tell you who knows Kilimanjaro better than Kilimanjaro experts. Most climbers prefer to start with Mount Kenya and climb Kilimanjaro after a safari tour.
Kenya day hike tour - MOUNT LONGONOT
Mount Longonot, located in the Great Rift Valley in Kenya, East Africa, is a volcanic mountain erupted in 1860. The outskirts of Mount Longonot are the Masai Community. Mount Longonot is a Masai word meaning the peaks of many spurs or ridges.
Mount Longonot is a National Park managed by Kenya Wildlife Service. Most of the walking trail is very steep, and every walker has to have 100% concentration. Mount Longonot crater rim stands at approximately 3000 meters.
Accessing this mountain from Nairobi is an hour's drive to the main gate on the tarmac from the main road to the gate. As you keep walking toward the crater rim, you will encounter the Mount Longonot satellite station.
On the Mountain crater floor is some forest, and some animals graze in the woods. Mount Longonot can be climbed in a day. Though the mountain looks easy to hike, the tour needs preparation and good health.
Mountain Climbing Kenya questions & Answers