Mount Kilimanjaro and Mount Kenya are Africa's first and second-highest mountains. Hiking Kilimanjaro and Mount Kenya for an incredible African adventure.
Hiking Mount Kilimanjaro and Mount Kenya
Climbing Mount Kilimanjaro and Mount Kenya offers the beauty of Flora and fauna, mountain freshwater springs, thick forest, wildlife, alpine meadow glaciers, and spiritual, physical, and mental refreshments.
Mount Kenya, known by the locals (Mount Kirinyara- meaning mountain of many ostriches), is the highest mountain in Kenya and is the second highest in Africa.
Mount Kenya is a volcanic mountain that last erupted approximately two million years ago. Located 150 miles from Nairobi, Mount Kenya is located at the equator.
Mt Kenya is an equatorial mountain, with an unusual climate, especially at the upper elevations, where it is generally freezing at Night and very hot During the day. The weather pattern is such that violent storms usually do Not rage for days. However, you might experience snow or rain during the wet season in midday and late afternoons. Storms occasionally occur at Night.
Mr. Mackinder first climbed Mount Kenya (Batian 17,058) in 1899. Before dawn, nylon and other modern synthetics were invented. Pioneers like Mackinder knew the value of wool. They were also fastidiously careful to keep Clean and dry while Mount Kenya was climbing.
Because of the high altitudes, it is wise to take your time to the summit areas, and the shortest trip to Lenana should allow for three nights. However, combining this ascent with circumnavigating the prominent peaks requires at least an extra day.
How high is Mount Kilimanjaro
Kilimanjaro is situated inside the Kilimanjaro National Park in Tanzania; the giant mount is the tallest in Africa. This information aims to provide the potential Kilimanjaro climber with valuable information on climbing Kilimanjaro, which will hopefully contribute towards increasing your chances of a successful summit attempt.
Combine the world's wonder, Ngorongoro crater, with Kilimanjaro, technical and walking to Kilimanjaro, Mount Kenya, and Kilimanjaro. We have been organizing the Kilimanjaro hike for the last fifteen years. Who knows Kilimanjaro better than Kilimanjaro experts? Most climbers prefer to do Mount Kenya climbing and climb Kilimanjaro after.
Rock spires

High tarns

Flora and fauna

Buffalos

Elephants

Snow
Mount Kenya has three prominent peaks;
Batian at 17057 ft

Nelion at 17021ft

Lenana at 16,355
To Batiana and Nelion is a technical climb, while Lenana is a typical hike.
Kilimanjaro has three peaks;
Uhuru 19,340 ft
Mawenzi 16,893 ft
Shira 13,140 ft
Dangers Climbing Kilimanjaro And Mt Kenya
One of the greatest dangers on Mount Kilimanjaro and Mount Kenya is hypothermia. Generally, the combination of a damp climate and wind can chill the body. In addition, moisture is lost from the body as energy is used moving up the mountain. The secret to avoiding hypothermia is staying dry, eating small amounts of sugary substances often, drinking lots of liquids, and acclimatizing slowly. Remember that moisture is your biggest enemy, whether it is from rain or your body-to stay dry to stay warm.
Climbing Kilimanjaro and Mount Kenya program
Met on arrival at the Nairobi International Airport and transferred to a Nairobi Hotel overnight.
Depart from Nairobi after breakfast and proceed to Mount Kenya. After arrival in Naro Moru town for lunch in one of the hotels, enjoy the view of Mount Kenya overnight in the hotel.
Early morning before breakfast, if clear, mount Kenya will be visible from your hotel, and you can take an apparent clear photo of Mount Kenya. After breakfast, we transferred to Naro Moru gate, the main entrance.
Walk 3-4 hours from the entrance to Met Station at 10,000ft meals and overnight in the huts.
Walk 4-6 hours through the Teleki valley to Mackinders
Camp at 14,000ft, where you get a better view of Lenana peak. Dinner is served, and you sleep early for a challenging hike the
next day.
Wake up at 2 am to reach the summit of Point Lenana at
all costs, walk 3-4 hours at17,000ft, and back to Met
Station for the Night.
Take your breakfast and return to the Naro Moru gate for
a transfer to Nairobi overnight.
Transfer to Tanzania Arusha by shuttle bus from 0800 hrs to Arusha in the afternoon. Overnight in an Arusha hotel, you will meet your Kilimanjaro climbing guide.
DAY 8: Climb from Marangu(1980m) - to Mandara hut at(2700m);
The hiking time: is 5 hours Distance: About 12 km Habitat: Montane forest Moorland. After breakfast, climb through fascinating rainforests until you reach the first hut Mandara. Meals and overnight at the place. (2700m).
DAY 9: Climb from mandara Hut at 2700m to Horombo hut at 3720m
Hiking time: 6 hours Distance: About 15 km walking through the moorland.
Hot breakfast, then proceed through the alpine – meadow. The altitude begins to change and will slow down your energy. You can view the Mawezi and Kibo peaks while enjoying flora and fauna. Here will have reached 12,500 ft, and we have our overnight.
DAY 10: From Horombo hut (3720m) - to Kibo hut (4700m)
Hiking time: 6 hours Distance: About 15 km and here looks like a desert.
After hot coffee and a good breakfast, start the climb; the walk becomes more challenging with the rocks, the lobelias appear, and you will spend the Night at Kibo hut at 15,000ft.
DAY 11: This is the day to attempt the summit between 4700m and 5895 m,
It takes about 8 hours to Uhuru peak, then back to Horombo hut at 3700m overnight.
6 hours to descend to Horombo Distance:
6 km ascent – 21 km descent
Habitat: Stone scree and ice-capped summit
The last ascent begins in the wee morning hours while the scree is still frozen; climbing to GILMAN'S POINT is the most tiring and challenging part. Reach UHURU PEAK within an hour's walk along the crater rim. (19,344ft). Descent to Horombo at 3700m hut WHERE YOU SPEND YOUR NIGHT.
DAY 12: From Horombo hut at 3720m - to Marangu Gate at 1980m.
Descend to Marangu gate after breakfast, about 27km and a good 6 hours walk.
Hiking time: 6 hours
Distance: About 27 km
Transfer from the entrance to Arusha for an overnight
After breakfast, transfer back to Nairobi Airport for your flight back home.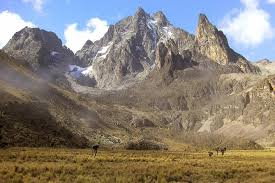 Climbing Mount Kenya
US$ 1300 PER PERSON
The price includes: Transfers to and from the airport and Mount Kenya, Accommodation the first night and 2nd night in Nairobi bed and breakfast, on hiking full board, entrance fee in the park, guides and porters.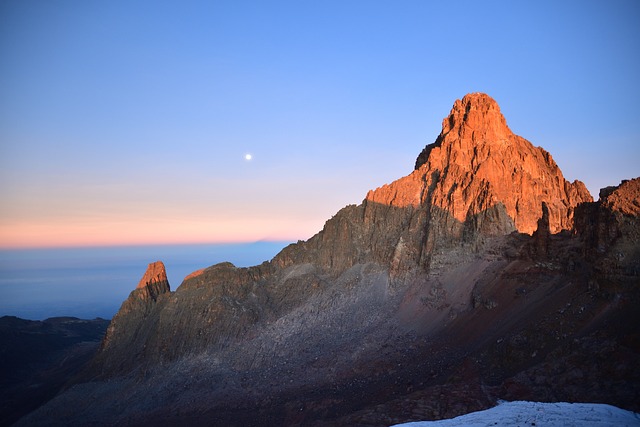 Climbing Mount Kilimanjaro
us$ 1950 PER PERSON
The price includes: Transfers to and from the airport and Mount Kilimanjaro, Accommodation the first night and 2nd night in Nairobi bed and breakfast, on hiking full board, entrance fee in the park, guides and porters.