Top 10 Mount Kenya Tours, hiking, trekking, climbing, and Kenya Safaris- Camping safari combined with mountain climbing in Kenya is the most beautiful idea, scenery, and wildlife.
Mount Kenya Climbing, Hiking, And Trekking Tours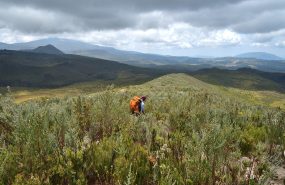 The Naro Moru route is the easiest route to Point Lenana Point through Taleki valley and Lewis Glacier. The Naro Moru route may not be the most beautiful, but it is the most popular route, and hikers claim it is the fastest route to the third-highest peak Lenana. The trail is accessed from the mountain's west side and the main gate to Mount Kenya National Park.
The Sirimon Route is via the cultivated land, moorland, and alpine meadow to the glaciers and volcanic peak Point Lenana. The beauty of flora and fauna cannot be compared to other routes, and campers and walkers prefer this route. Many hikers have passed the Sirimonroute as the Mount Kenya route's most beautiful.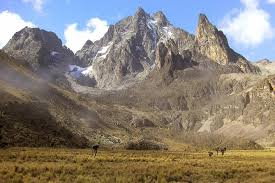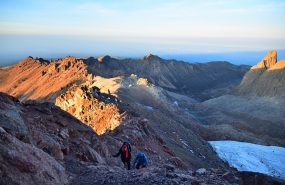 The Chogoria route is arguably the most scenic route to Point Lenana. The trails are dry and exciting with vegetation. Deseeding through the Sirimon path will keep you in the mountain a little longer, and this tour takes six days. We will be pining the tents on this route, no huts accommodation.
climbing Mount Kenya tours Naro Moru route 5 days / 4nights
Depart from Nairobi after breakfast and proceed to Mount Kenya. After arrival in Naro Moru town for lunch in one of the hotels, enjoy the view of Mount Kenya overnight in the hotel.
Early morning before breakfast, if clear, mount Kenya will be visible from your hotel, and you can take an apparent clear photo of Mount Kenya. After breakfast, we transferred to Naro Moru gate, the main entrance. Walk 3-4 hours from the access to Met Station at 10,000ft meals and overnight in the huts.
Walk 4-6 hours through the Teleki valley to Mackinders
Camp at 14,000ft, where you get a better view of Lenana
peak. Dinner is Served, and you sleep early for a challenging hike the next day.
Wake up at 2 am to reach the summit of Point Lenana at
all costs, walk 3-4 hours at17,000ft, and back to Met
Station for the night.
Take your breakfast and return to the Naro Moru gate for a transfer to Nairobi.
climbing Mount Kenya tours SIRIMON route 5 days / 4nights
08:00 am Pick up from your hotel and transfer to Sirimon
Park Gate 2600m. En route, you meet with the porters & guide – picnic lunch at the park gate & begin an acclimatization hike through the moorland to Old Moses 3300m for dinner and overnight. [3 hours]
DAY 2: SIRIMON-SHIPTON CAMP
Hike leisurely to Shipton's Camp 4200m for overnight [6-7
hours]
DAY 3: SHIPTON-LENANA-OLD MOSES
The pre-dawn attempt of Pt. Lenana 4985m and then descend Leisurely back to Shipton's Camp for breakfast; after that, proceed to Old Moses for overnight [5-6 hours)
After breakfast, descend the road and head [3 hours] for
your transfer vehicle to Nairobi.
climbing Mount Kenya tours CHOGORIA route 5 days / 4nights
Pick up from hotel at about 0800. It's then about 3 1/2 hours from Nairobi to where we collect the porters and guides (as required). Into the Mt. Kenya forest for the 22 km drive to the Park Gate at 2,850m. Dependent on road conditions, these 22km have been known to take all afternoon to do, and in really wet conditions, the top four or five km may be impassable. Night, dependent on clients' wishes, at the Meru Mt. Kenya Banda's or at the road head a further 7 km from the Park Gate.
After breakfast and sorting porter loads, we set off the
mountain at a nice and easy pace. A slightly longer walk via Lake Ellis gives scenic views of Mugi, Ithunguni, and the Giants BilliardsTable. Simultaneously, flora and fauna are breathtaking if we follow the river near the road and head on for 3 km. Finally, we arrive at our camp at about 3,600m, well away from the more "touristy" areas.
From our campsite, we continue to move up through the moorland zone. As this mountain area is still off the beaten track, there are no paths to follow, and on each trip, we vary the site we walk across. After about an hour, traverse left, walk to a ridge (slight path to follow), and enter the usual Chogoria route to Minto's Hut after about 4 hours. Lunch at a small stream crossing, then 45 min to a camp near Minto's Hut and next to one of the tarns. A very short afternoon walk over to superb views across to "The Temple" and Lake Michelson.
After waking up in the wee hours of the morning, proceed
to the summit of Point Lenana for approximately 4-5 hours. After sunrise at 6.30 am, head on to view Mt. Kilimanjaro and the Kenya Coastline and descend to Bandas for meals and overnight.
Take your breakfast and walk 15 km to the park gate for
your transfer back to Nairobi.
HIKING MT KENYA tours PRICE - from US$1300
Transfer to and from Mount Kenya to Nairobi
Meals while trekking
4 Day hiking Mount Kenya
The price includes the following:
three nights' hiking accommodation,
three meals a day,
the entire hike,
and a Rescue fee.
Mount Kenya entrance fee
Porters and guides,
Mount Kenya certificate.
Hotel in Nanyuki or Naru Moru
Nairobi accommodation
Transfer to and from the Airport
A warm jacket,

hiking boots, 

scarf, rain suit, 

Sunglasses, 

warm sleeping bag, 

hat, 

etc.
At Mount Kenya, there are three main routes, the Naro Moru route, the Sirimon route, and the Chogoria route, and each course has something unique to offer.
The Chogoria route is the uncommon route, though arguably the most beautiful.
The Nelionn and Batian are the highest point and require good technical climbing experience, but Lenana is approached with just a walking stick, and anyone can try it.
Mount Kenya is safe to climb, but it is good to be cautious at all times because you may encounter wildlife on the way.
Mount Kilimanjaro is more elevated than Mount Kenya.
Mount Kenya is 5199 meters above sea level.