Mount Kilimanjaro, Kenya, Or Tanzania
Is Kilimanjaro in Kenya or Tazania
Mount Kilimanjaro is located in the north/eastern of Tanzania. For the adventurous, climbing Kilimanjaro is a must-to-do destination considering going through the mists of the equator to reach the snow and breathtaking views at the Top of Africa.
Kilimanjaro is a mystery; for some, it means the Mountain of Light; for others, the Mountain of Greatness, and even the Mountain of Caravans. The locals missed a name for this giant mountain. The beauty of the tallest free-standing mountain in the World is impressive at 19,336 feet above sea level.
At the summit of Kilimanjaro, you will be welcomed by a sign posted by the Tanzanian government. You are now at the summit of Uhuru peak.
But as some explorers described, Mount Kilimanjaro is wide and high, and the white sun is unbelievable. Thus Kilimanjaro, visible from as far as Tsavo and Amboseli National parks in Kenya, is one of the most incredible sights. Kilimanjaro is Africa's highest mountain rising over 16,000ft from the surrounding plains to a peak of 19,340ft.
Climbing Kilimanjaro from Kenya
Climbing Kilimanjaro from Kenya is a fantastic experience. You encounter wildlife like elephants, buffalo, antelope, and more. In the Rongai route (Loitoktok), you will drive through Kenya's plains, landscapes, and farms and cross the border at Loitoktok border town. After the migration formalities, proceed to Moshi in Tanzania for an overnight. Below is the nine-day Rongai
climbing Mount Kilimanjaro from Kenya
DAY 1: NAIROBI TO AMBOSELI
Leave Nairobi after breakfast and drive to Amboseli National Park. Afternoon safari in the park. Meals and overnight at a hotel in Loitoktok, lodge, or camp. The possibility of viewing Mount Kilimanjaro is high today.
Early morning safari: After breakfast, proceed to the Kenya/Tanzania border; after the migration formalities, proceed to Moshi town for overnight
DAY 3:Rongai Gate at 1950m - 1st camp (2600m) Hiking time: 5 hours Distance: About 8 km Habitat: Walk through the bush.
Register with Tanzania Wildlife at the Marangu gate and later transfer to the Rongai gate, where you meet your guide and porters. Then, start your climb through the forest to the first cave, where you will spend your night at 2600m.
DAY 4: 1st Cave (2600m) - Kikelewa Cave (3600m) Hiking time: 6-7 hours Habitat: Moorlands
The trail continues towards Kibo, passing Second Cave (3450m) en route, and reaching Kikelwa Cave at about 3600 meters. Then, finally, the view starts being transparent, and you realize how high you are in the mountain. Overnight will be at the 3d cave at 3600m.
DAY 5:Kikelewa Cave At 3600 -To Mawenzi Tarn Camp At 4330m Hiking Will Be 4 Hours Habitat: Wall Through The Moorlands Forest.
A superb view as you climb slowly on this steep area, and the vegetation clears as you approach Mawezi Tarn, where you spend the night at 4300m.
DAY 6: Mawenzi Tarn camp at 4330m to - Kibo hut at 4730m Hiking time: 5 hours Habitat: Alpine desert
You are ascending on the east die of Kibo slopes and crossing the Mawezi and Kibo saddle walks to Kibo hut, where you spend the night.
DAY 7 Kibo hut at 4700m to - Uhuru Peak at 5895m and back to Horombo hut at 3720m Hiking time to Uhuru peak: 8 hours - Descending to Horombo 6 hours (14 hours) Distance: 6 km ascending - 21 km descending. Habitat: snow-capped
Wake up in the wee hours and take hot coffee or tea; take some biscuits. The climbing gets hard, walking through the rocky path to the Hans Meyer Cave at 5150 m, where you will have rest. Find your up to Gillman point at 5681m, the going is getting rugged and steep with a lot of scree stones, and you must be mentally and physically stable as this is the most demanding part. lExcelelate to Uhuru peak, and the snow appears after your photograph. Make your way back to Kibo hut and proceed to Horombo hut, where you have your night.
DAY 8 Horombo hut at 3720m to - Marangu Gate at 1980m Hiking time: 6 hours Distance: About 27 km Take your breakfast and descend through the Mandara hut to the Marangu gate
The successful climbers receive their summit certificates. Those climbers who reached Gillman's Point (5685m) were issued green credentials, and those who reached Uhuru Peak (5895m) received gold certificates. You now drive to Arusha for an overnight stay.
DAY 9. Board A Shuttle Bus To Nairobi Or Start A Tanzania Safari.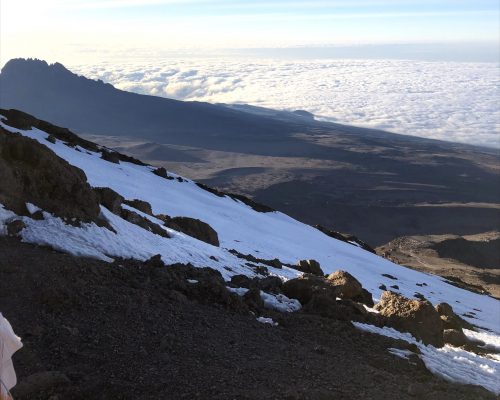 Includes: Transport on safari, entrance fee in the parks, accommodation in the tents, entire meals, and transfers.
You can only climb Mount Kilimanjaro from the Tanzania side. However, Kilimanjaro has the best view from Amboseli National Park in Kenya. If you go on a Kenya Amboseli safari, Amboseli is just at the foot of Kilimanjaro.
Yes, Kilimanjaro is at the border of Kenya and Tanzania. However, you can only access the mountain from the Tanzania side.
Mount Kilimanjaro is located in Tanzania; this giant mountain is a volcanic mountain that last erupted more than 300,000 years ago; Kilimanjaro is the 6th tallest mountain in the world, standing at 19000ft above sea level and also the tallest in Africa.
Kenya and Tanzania are both in East Africa but border each other. However, they share the same climate, wildebeest migration, culture, and ocean and have a strong relationship.
Mount Kilimanjaro is at the border of Kenya and Tanzania. However, you can only climb from the Tanzania side.
Mount Kenya is the highest Mountain in Kenya and Africa, while Kilimanjaro is the highest Mountain in Tanzania and Africa. However, at the top of Kilimanjaro at 19000ft, it is easy to see as far as your eyes can take you, including Mount Kenya.
Though Mount Kilimanjaro is the highest Mountain in Africa, it has no technical climbing, while Mount Kenya has both technical and walking routes to reach the summit.
Well, climbing Mount Kenya, the second highest Mount in Africa, and climbing Kilimanjaro can be regarded as the hardest; both mountains have unpredictable weather, and sometimes it is challenging to reach the summit.